Ezekiel 9 is a sobering passage. In his vision, Ezekiel sees God call forth the "executioners". There are six of them – one commentary describes them as Levite guards and another as heavenly beings. Each one is equipped with a mappats (some type of war club, literally "shattering weapon"). There is also a seventh figure whose responsibility is to go throughout the population of Jerusalem and put a mark on the forehead of any of those who have not been a part of the idolatry, a righteous remnant. The executioners begin with the elders, the first group described in Ezek. 8:11.
Ezekiel falls on his face and cried out to the Lord in fear that all the people would be destroyed and there would be no remnant. This reminds me of Abraham's cry to The Lord when God was about to destroy Sodom and Gomorrah (Gen. 18:23-33).
After much patience, God's wrath is now spent on Jerusalem because of her disobedience and her idolatry. There is not an "if" with God's judgment, only a "when".
Reading this chapter this morning gave me pause to wonder how long the Lord will continue to hold back His righteous judgment on our nation. Our country is guilty of the same sins as the people of Israel and the pace of degeneration seems to be increasing every year.
Psalm 48 opens with a praise to God. Ps. 48:1-2 is familiar to me because of the song we used to sing when I was a teenager. It comes from these verses,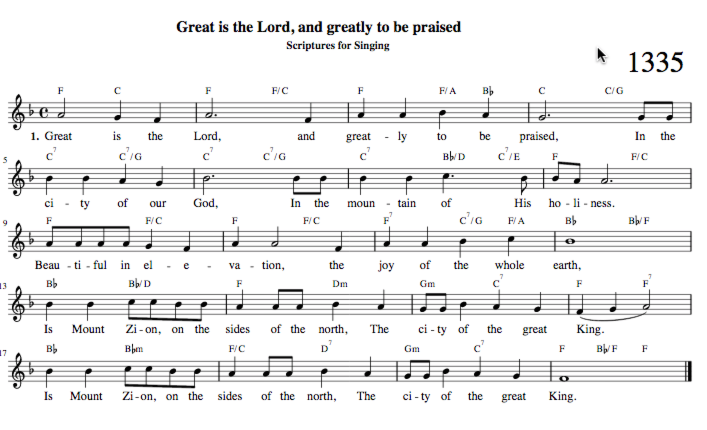 I can hear my wife beautifully singing it in my mind. The psalmist is expressing the greatness of the city, because God's presence is there. It is God Who makes Zion a place of strength and beauty. Likewise for the believer, it is the indwelling of the Holy Spirit that makes us the temple of God today.
There are two things that are repeated again in this Psalm that caught my attention this morning. The first is the statement in Ps. 48:3, "…God has made himself know as a fortress." God as a place of refuge is reiterated throughout the Psalms. As humans, we are extremely vulnerable and only God can provide 'safe haven' for our souls.
The second is Ps. 48:9 where the psalmist again talks about the 'steadfast love' of God. The love we receive and give to other people is subject to failure. God's love cannot and will not fail. It is enduring and never changing. That is a precious promise for me to grasp.